Provence is one of France's most popular regions, and for very good reasons. The landscape of Provence is very diverse: from the famous lavender fields to the turquoise waters of the Gorges du Verdon, the hilltop Luberon villages to the warm Mediterranean sea, and of course the unique Camargue ecosystem. Provence also holds important cultural significance, with towns dating back from the Middle Age, ruins from the Roman Empire and even the palace that was once the Pope's main residence. Also, let's not forget the region is a key wine producer in France!
In the heart of Provence, the Luberon is without a doubt one of the most pleasant and picturesque destinations in France and is attracting French and foreign tourists alike with its medieval villages, endless wineries, and historical and cultural associations. If you think you have never heard of Luberon villages, think again. The Ridley Scott movie "A Good Year" was filmed here. If you don't know it, drop everything you are doing right now, and go watch it!
The Luberon is home to many beautiful villages, including 5 with the official label "Les Plus Beaux Villages de France" (France Most Beautiful Villages), and driving or biking from one village to the next is one of the nicest activity you could do in Provence.
HOW TO GET TO THE LUBERON?
The Luberon is easily accessible from two international airports and two train stations:
Nearby Airport: Nice International airport is around 200 km (±2 hours drive) from the southern border of the Luberon Natural Park. Most of the drive is on the A8 highway, so it is a quick and easy drive. Marseille International Airport is only 40 mins drive away (with a mix of highway and secondary roads)
Nearby train stations: Avignon TGV train station is a 40 mins drive from the eastern border of the Luberon National Park, and so is Aix en Provence TGV to the southern border.
HOW TO GET AROUND IN LUBERON?
Like most rural regions in France, unfortunately, it is not easy to get around Provence and Luberon by public transport or taxi. Buses are not regular and might not drive at all on Sundays, taxis are very limited and Uber doesn't operate there yet. The best way to explore the Luberon villages is definitely by car. If you rent a car, don't hesitate to pick a small one (we drove around in a Fiat 500 and loved it !), as the roads can be very narrow in some areas. There are also a lot of biking trails that are pretty well indicated, however, the region is very hilly which makes biking challenging if you are not used to it. My best piece of advice: electric bikes !! You can rent some from Sun-E-Bike in Bonnieux. Check out some nice biking itineraries around Provence here.
THE MOST BEAUTIFUL LUBERON VILLAGES
SAIGNON
Saignon is a tiny medieval hilltop village of around 1000 inhabitants. The winding cobbled streets lead to the beautiful village center, a square with a picturesque fountain surrounded by old flowering houses. Climb to the Rock of Saignon, and you will get a beautiful view of the Luberon valley and nearby villages. There is not much to do in Saignon except walking around and having a nice lunch. There is also a small market of local specialties every Thursday from April to October.
Where to eat in Saignon: Le Comptoir Baltazar is a small restaurant near the church with a menu of delicious homemade local specialties and local rose wine. Don't mind the grumpy looking owner, he is actually very kind and his food is so tasty (just don't bother his cat!)
LOURMARIN
Well known and more touristy, Lourmarin is one of the 5 villages in Luberon to have the official label Les Plus Beaux Villages de France. It has a typical architecture provençale, with narrow streets, colorful houses, and lots of cafes and restaurants with terraces. There is also a castle from the Renaissance era to visit just outside the village. Albert Camus, the famous French laureate of the Nobel Prize of Literature is buried in the village cemetery.
A few shops not to miss in Lourmarin:
Atelier Gerad Isirdi: colorful illustrations of Lourmarin and the Luberon villages in general.
Atelier Buisson Kessler: all kinds of colorful ceramics tableware, manufactured in Apt since the late 80s.
Le Petit Lourmarin: luxurious (and slightly overpriced) lavender-filled wands and orbs.
Le Petit Commerce: for the best selection of clothes and accessories from American Vintage, Maison Scotch, Mya Bay, Petite Mendigotte etc.
Where to eat in Lourmarin: L'Insolite Cafe is a classic French brasserie with a cozy interior decoration and a shaded terrace at the back. The staff is young and friendly and the food is delicious. Try the Boeuf "Ailleurs", a steak tartar with an Asian twist. It is to die for. They also have different platters (cheese, cold cut, duck etc.), ideal to share with friends.
ANSOUIS
Also one of the Plus Beaux Villages de France, and relatively similar to Saignon, it is a quiet village, with lovely streets but really not much to do. I guess that's what makes the charm of the village to some, but that let me down a little! Still, don't forget to take a look at the Saint Martin church and its surprisingly rich paintings, and visit the village castle. It was closed when we went, but this privately-owned castle and its gardens are supposed to be very beautiful.
LACOSTE
Lacoste is best known for its castle, once upon a time the residence of the Marquis de Sade. For my non-French readers, the marquis de Sade was a French nobleman, politician, and writer from the 18th century, infamous for his libertine sexuality and most likely sadism. Now you know!
Its residence sits on the top of the village and offers an incredible point of view over the surrounding Luberon valley and all the way to the Mont Ventoux. The castle now belongs to French designer Pierre Cardin, and hosts some modern sculptures, that contrast sharply against the ruins of the castle.
Did you know ?
In such a traditional rural village, you will surely be surprised to find the "campus" of the Savannah College of Art and Design. This American School has invested in the renovation of the villages, transforming abandoned houses and shops into classrooms, libraries and art studios, and overall contributing to the economic revival of the village. Students who come to study in Lacoste live in the Maison Basse, a massive property nearby and by far one of the coolest student houses of all time!
Check it out here.
MENERBES
Menerbes is one more cute little village of Luberon and although I didn't find it that interesting (it was really empty when we visited …) it is making the list because we had a really great lunch there! To be honest, it is listed as one of the most beautiful villages in Luberon, so you should probably visit it anyway, I might just have visited on the wrong day/time.
Where to eat in Menerbes: right at the entrance of the village, with a terrace overlooking the valley, you will find Le 5. In a very casual outdoor bistro atmosphere, you can taste the best of French cuisine. Price-wise it is definitely on the higher side (100 EUR for 1 starter, 2 main courses, 1 bottle of rose, 1 bottle of Badoit and 1 coffee) but the food was absolutely worth it.
OPPEDE LE VIEUX
For the real medieval village feeling, visit Oppede Le Vieux. Leave your car or your bike at the bottom of the village and start climbing the streets uphill, all the way to the 12th-century church dominating the surrounding Luberon valley. Just like other hilltop villages, the view is beautiful, but it is really the medieval feel of the village, and the thick vegetation taking over in some places that sets this village apart.
ROUSSILLON
Roussilon is easily one of the prettiest villages in Luberon. Built nearby one of the largest ocher quarries in the world, Roussillon is famous for its pretty house facades colored in a thousand shades of red. Explore the village, walk through the Beffroi and up to the village fortifications for a spectacular view of the surrounding valley.
One of the ocher quarries can be visited through 2 trails, the longest being approximately one hour walking.
SAINT SATURNIN LES APT
Although the village itself and its pastel color houses are very cute and typical of Provence, the most impressive area of Saint Saturnin Les Apt is the castle ruins sitting 450 m above the village on a rocky peak. It takes around 15 min (and a good pair of shoes) to walk up the rocky trail to the castle and the chapel (from 1056). Once you reach the top, the surrounding view is truly exceptional, the best I have seen in Luberon.
BONNIEUX
Another high perched village, Bonnieux and its houses spread on the hillside of the village can be spotted from afar. The "bottom " part of the town is lively with lots of restaurants and shops, while on the upper part you can admire the old church and some very impressive cedar trees. Once again a beautiful village in Provence and a beautiful view over the Luberon valley.
GORDES
This list wouldn't be complete if I didn't mention one of the most famous villages in Provence. For a showstopper view, head over to Gordes. Its labyrinth of narrow streets going up and down the village are lined up with small shops and nice restaurants, and from everywhere you have a great view of the surrounding valley. There is a 10th-century castle to visit, and some outstanding hotels to stay at (check out la Bastide de Gordes).
The best view though might be from across the valley, looking at the village. You can't miss the viewpoint: on your way to the village, you will notice all the cars and buses stopping by for people to take pictures.
Where to eat in Gordes: We had lunch in La Trinquette, and I was very pleasantly surprised. We were very lucky to score the only table on their 1st-floor balcony that has a gorgeous view over the valley, but it is really the food that made an impression on me. The menu was rather simple, but everything we tried was super tasty, well seasoned, and just perfect really! It was a really good find and I can't recommend it enough! If you want that one table on the balcony though, you should probably book ahead.
WHERE TO STAY IN THE LUBERON, PROVENCE
Saignon: Le Rimayon
Le Rimayon is a big beautiful house, in a garden with a pool. The rooms are large, with a simple but authentic Provence decoration. Le Rimayon serves a typical and delicious French breakfast (croissant, bread, butter & jam, fresh fruits etc) either in the garden or in the dining room. They also have a restaurant (available to non-staying guests), with a limited but delicious menu that changes daily.
Gordes: La Bastide de Gordes
Member of the Leading Hotel of the World, La Bastide de Gordes is a sumptuous chateau in the heart of Provence most famous village, with a panoramic view over the Luberon valley. The rooms are decorated in traditional and opulent 18th century, with most of the furniture coming from high-end antique dealers. There are 2 restaurants, both serving French cuisine with a Provencal flair, that are open to non-staying guests.
Lourmarin: Le Moulin de Lourmarin.
Located just across the Lourmarin castle, Le Moulin de Lourmarin is set in a 18th-century former oil mill. The bedrooms are very comfortable and cozy but definitely not as large as I had imagined. In the summer, breakfast can be enjoyed in a very pretty courtyard. The buffet breakfast is fresh, homemade and delicious.
Goult: Traditional stone mas
If you are staying with friends and family and want to rent a house, I recommend this beautiful villa in Goult. It is actually an old silkworm farm dating back to 1619, so the building is antique but has been beautifully renovated in a traditional Provencal way with some modern twist. The massive kitchen and dining area are ideal for a family, and the terrasse (with bbq) and pool are perfect for a relaxing afternoon. Accommodates 8 adults + 2 children.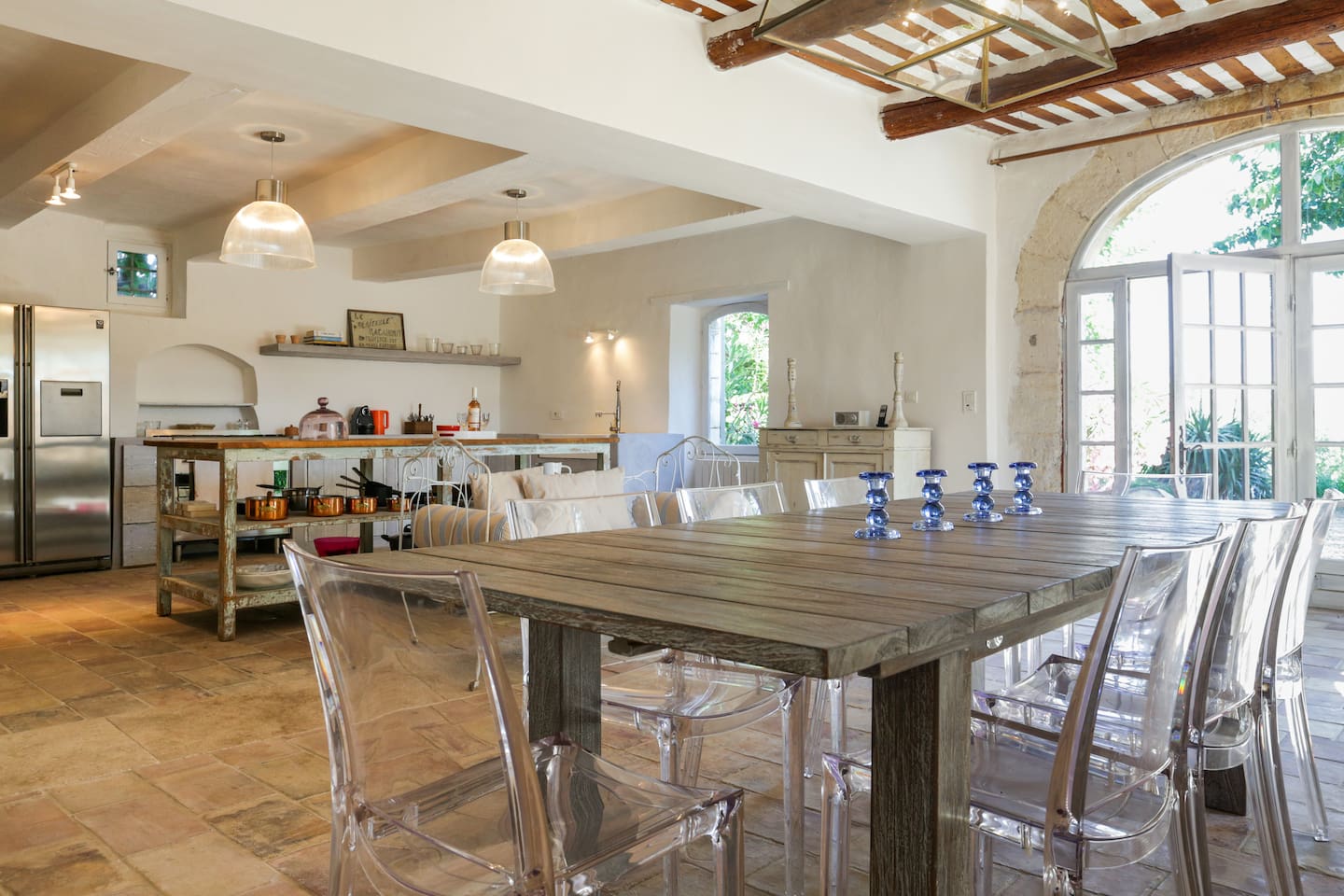 Here you go, I hope you find this round-up of the most beautiful Luberon villages useful, and that you will get to visit Provence very soon. If you have any questions or suggestions, please drop me a message in the comment box below!
Love, Emma